What We Do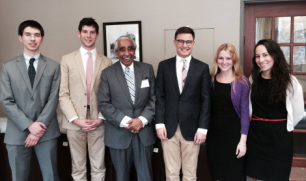 TorchPAC is New York University's Pro-Israel Advocacy group. We are a bipartisan organization that works to strengthen the U.S.-Israel relationship.

We advance our aims in three main ways:

Proactive Education We are committed to presenting people with the facts about the US-Israel relationship and the Arab-Israeli Conflict. We support rigorous debate and dialogue with everyone in order to allow NYU students to develop informed and educated opinions on Middle East Issues.

Building Relationships In order to have a lasting impact and change the conversation about Israel on campus, we believe that engagement is a far more powerful tool than bombardment; we are not interested in spewing facts about Israel, but rather, on having provocative and impactful conversations about the Middle East and the US-Israel relationship.

Lobbying Efforts We meet with members of Congress to educate them on Israel issues and to lobby for the legislation that strengthens the crucial US-Israel alliance. We also encourage the reelection of pro-Israel members of Congress, especially the Representatives whose legislative record indicates clear support for the U.S.-Israel relationship.


TorchPAC was the recipient of the AIPAC Activist of the Year Award in 2013.
---